International group of mental health professionals demands a new look at psychiatric diagnosis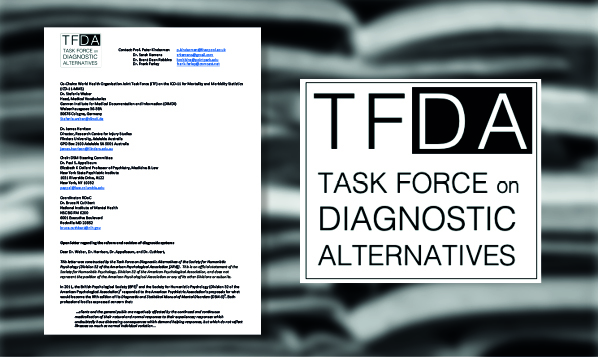 Mental Health Europe (MHE) supports an open letter from an international group of mental health professionals. The letter, prepared by the Task Force on Diagnostic Alternatives (TFDA), calls for the reform and revision of diagnostic systems in psychiatry, psychology, and mental health care.
What does the letter say? 
The letter details concerns about major psychiatric diagnostic manuals. The challenge issued by the letter's authors addresses the leaders of the American Psychiatric Association, the World Health Organization and others developing psychiatric diagnostic manuals. They ask to reflect on the purpose and aim of diagnostic systems as a mechanism for the marketing of medications and professions versus a genuine attempt to improve wellbeing. It calls for significant changes to diagnostic systems to combat the continued and continuous medicalisation of our natural and normal emotional responses.
Peter Kinderman, a member of MHE's Beyond Biomedical Paradigm Taskforce and one of the TFDA's leaders said: "Seeing our difficult emotions as symptoms of mental ill-health is only one way of thinking about them, with advantages and disadvantages. Biomedical psychiatry does not have a monopoly of understanding, and, in this open letter, we make it clear that there are alternative perspectives – valid and based on sound scientific evidence – that deserve to be given consideration. We need to stop blaming and medicating the victims of abuse and disadvantage. Mental health professionals, politicians, journalists and members of the public are realising that there are alternatives to an exclusively biomedical perspective on our mental health. The biomedical approach is ineffective and dangerous, leading to pathologizing labels and the prescription of harmful drugs in huge quantities."
What is TFDA?
The Task Force on Diagnostic Alternatives represents the Society for Humanistic Psychology (American Psychological Association's Division 32). The Taskforce was set up in 2011, following MHE's member organisation, the British Psychological Society and the Society for Humanistic Psychology's response to the American Psychiatric Association's proposals for what would become the fifth edition of its Diagnostic and Statistical Manual of Mental Disorders (DSM-5).
Their concern, among others, appeared in an Open Letter to the DSM-5 that was endorsed by over 15,000 mental health professionals and other individuals as well as by over 50 professional organisations.
How to get involved?
Organisations and concerned individuals can show support for the open letter calling on the leaders of the American Psychiatric Association and World Health Organization for a revision of diagnostic systems. You can add your name to this letter HERE. You can also share this post on social media and help us spread the word.
For more information and comment, please contact: Prof. Peter Kinderman p.kinderman@liverpool.ac.uk +4479412652848
Download the letter HERE
Download the media release HERE 
Sign the letter HERE
***
Further reading: