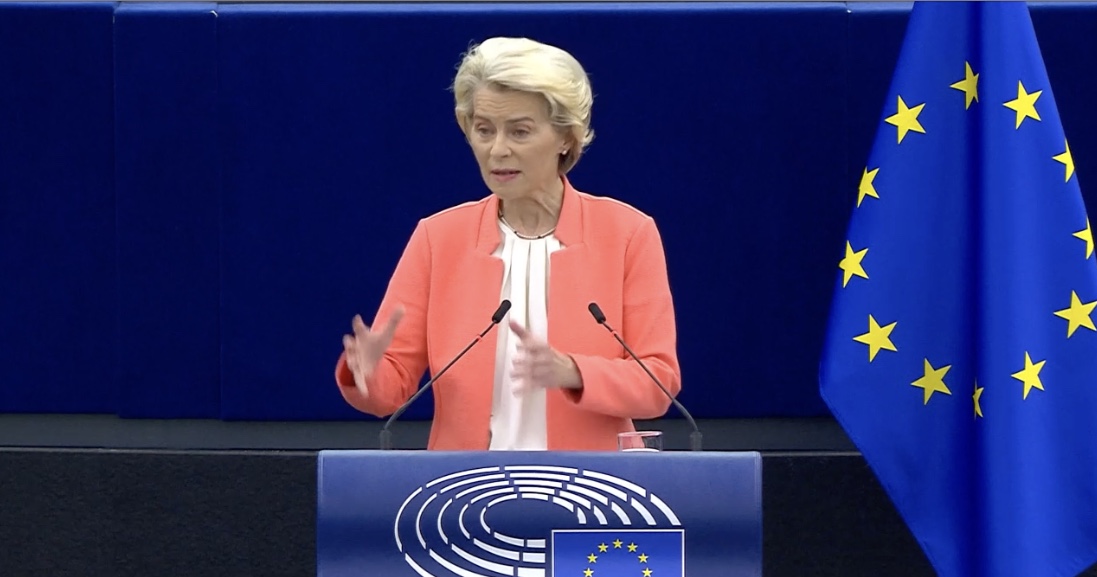 13 September 2023: Today, President of the European Commission Ursula von der Leyen delivered her fourth State of the Union (SOTEU) address at the European Parliament Plenary in Strasbourg. While her speech outlined important priorities and flagship initiatives, it missed a crucial opportunity to address the pressing issue of mental health within the European Union.
Mental Health Europe (MHE) acknowledges and supports the emphasis on social issues in President von der Leyen's speech, particularly gender equality, as this significantly impacts mental health. The President proudly highlighted the "groundbreaking and pioneering work" on gender equality, aligning with MHE's commitment to mainstreaming human rights and recognising intersectionality as fundamental pillars for mental health.
Neglecting mental health in a post-pandemic and polycrisis era
In the ongoing post-pandemic and polycrisis era, today's State of the Union speech referred to the Health Union.  However, it is disheartening that health, especially the pressing issue of mental health, was notably absent from the speech. This missed opportunity could have been a crucial moment to sustain momentum created with the SOTEU 2022 speech and underscore the political and economic importance of fostering healthy societies.
Recent OECD surveys reveal a concerning picture: mental health has significantly deteriorated since the COVID-19 pandemic began, with increased rates of anxiety and depression across 15 selected OECD nations, including several in Europe. Given this context, it is paramount that we recognise the continued need of prioritising mental health and well-being as fundamental human rights and as the foundation for bolstering our economies, societies, and global competitiveness.
The EU's pioneering comprehensive approach to mental health
During last year's SOTEU address, the President's mention of a new initiative on mental health sparked excitement within the European mental health community. This enthusiasm was followed by the groundbreaking announcement on 7 June 2023, in which the European Union unveiled its first-ever comprehensive approach to mental health, marking a significant milestone in addressing the mental well-being of citizens.
This initiative is a direct response to the insights gathered from the Conference on the Future of Europe and aligns with the European Parliament's persistent calls for more robust mental health measures. It represents  the Commission's commitment to assist Member States in prioritising the mental health of citizens and an important first step towards a holistic approach to  enhance mental well-being across the European Union.
MHE conducted an analysis of the Communication from the European Commission on 'A Comprehensive Approach to Mental Health' offering recommendations grouped into six key priorities. While a well-defined, long-term action plan for mental health is needed, the current comprehensive approach lays the foundation for a more substantial commitment to mental health in the future.
Elevate mental health for a healthier European Union
MHE envisions a future where mental health remains a top EU priority. The EU's often reactive approach to health policy needs to change, as health and well-being are fundamental to the overall thriving of EU citizens.
At MHE, we remain steadfast in our commitment to championing mental health and well-being. We firmly believe that these are the cornerstones of prosperity for EU citizens and are integral to the EU's global competitiveness. Indeed, there is no health without mental health, and safeguarding our citizens' mental well-being is imperative for ensuring social justice and enhancing our competitiveness on the global stage.
Liuska Sanna (MHE Acting Director): "It's unfortunate that today's SOTEU didn't address mental health. In the midst of the enduring post-pandemic and polycrisis era, where reports reveal a decline in mental well-being amongst our citizens, it's now more crucial than ever to recognise that health and well-being are the fundamental building blocks for a flourishing union."
As the largest independent network on mental health in Europe, MHE is on a mission to lead in advancing a human rights-based, community-oriented, recovery-focused, and psychosocial approach to mental health. We remain committed to working tirelessly to achieve our vision of a Europe where everyone's mental health and wellbeing flourish across their life course.