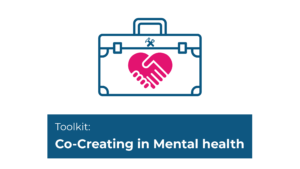 'Mental Health Europe's toolkit on Co-Creation

'
The aim of Mental Health Europe (MHE) Toolkit Co-creating in Mental Health is to provide a variety of stakeholders in the field of mental health and psychosocial disabilities with a framework that includes both the theory and practice of implementing a co-creation approach in mental health. This framework is shaped according to MHE vision, values and approach that are primarily based on human rights and the psychosocial model of mental health.

Whether you are a person with lived experience, a practitioner, an academic, a charity, a policy or decision-maker or other type of stakeholder wishing to engage in co-creation in mental health, this toolkit provides an overview of what co-creation is, its benefits and advantages to all actors in mental health and practical tools for working in co-creation.

Through a set of principles that underpins co-creation activities, a methodology for facilitating training on co-creation and several tools for planning and evaluating co-creation, the toolkit will guide stakeholders in creating an environment conducive to successful and impactful co-creation. The toolkit can be used in many different contexts. It can for instance support policies' development, re-thinking services, planning an awareness campaign, producing an education manual, organising a training. Whatever the activity or project, it is always possible to do it in co-creation provided the commitment and investment are there.

As rewarding as co-creation is in terms of results and ownership, it also presents challenges and issues to consider. The toolkit is meant to help its users understand what the implications of working in co-creation are, identify potential problems, prevent or address them, think of the practical aspects and plan accordingly.
The toolkit content was developed by MHE Co-creation Task Force consisting of members with diverse profiles: persons with lived experience, service users, advocates, practitioners, academics, service providers. It was developed building on available resources and literature and the experience and expertise of co-creation within MHE.
The toolkit is a living document; it will be reviewed and updated over time building on learning and knowledge generated through the implementation of co-creation activities by MHE, its members and other stakeholders at country, regional and European level.