We are delighted to share the news that Jan Berndsen, President of Mental Health Europe (MHE) has been recognised by the Royal House of the Netherlands for his outstanding service to society. Jan, who has been President of MHE since 2018, has become an Officer of the Order of Orange-Nassau. This civilian order of chivalry was awarded to Jan for his contribution to mental health care development in the Netherlands, which is his native country.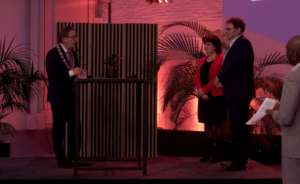 Mayor Koos Janssen van Zeist presented the award to Jan acknowledging Jan's great commitment to improving the lives of people with psychosocial disabilities. As a director of Lister – an Utrecht-based organisation providing recovery support to people with mental health problems – Jan was one of the initiators of the restorative work and brokering knowledge and expertise. First within Lister, but also together with other stakeholders within mental health care in the Netherlands.
Speaking about the award, Jan said: "I was very surprised and also very honoured to receive this great award. It is not only an encouragement for me personally to go further on, but also to continue developing this important movement in the Netherlands and through my work at the European level." 
Responding to the award, Claudia Marinetti, Director of Mental Health Europe, said: "I am pleased, and so is the Board, that Jan has received this considerable honour. His commitment to human rights and dedication to improving the lives of people with mental health problems not only in the Netherlands but in the European region deserves this great recognition."
Today, as the President of Mental Health Europe, Jan Berndsen is helping to champion the rights of people living with mental ill-health, working towards a Europe where people with mental health problems live as full citizens with access to appropriate services and support.