16 January 2018
MHE launches 'Mapping and Understanding Exclusion in Europe' Report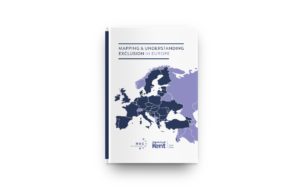 Today, Mental Health Europe and the University of Kent-Tizard Centre launch their"Mapping and Understanding Exclusion in Europe" report, a unique study which looks at the state of mental health services across Europe (35+ countries) and provides exclusive data and testimonies about European mental health systems, ongoing human rights violations and the changes on the horizon.
Tens of thousands of people with mental health problems are living in psychiatric and other institutions in Europe today. Hundreds of thousands of people live under full guardianship, isolated from society and deprived of the right to make choices which make up our everyday lives.
The report shows that institutional care, the use of coercion, forced medication, loss of rights and reliance on involuntary hospitalisation of people living with mental ill health are not only a Central and Eastern European problem. The study also points to more modern and progressive approaches and successful examples of community based services.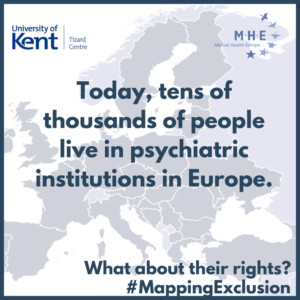 A unique feature of Mapping and Understanding Exclusion is the inclusion of the voices of people who have been forcibly treated. This chapter of the report helps people understand what coercive measures can do to a person, how isolating those experiences can feel and how it can impact upon their recovery.
The report also includes recommendations for the EU going forward, and urges the European Union to keep financing deinstitutionalisation post 2020, and extend funding to all EU Member States with institutional care and better monitor how its money is spent.
Visit the Mapping Exclusion section of our website to download the translated version of your country report (if available) and for more information.
Download 'Mapping and Understanding Exclusion' in Europe Report HERE
Read more about the study and download country fiches in your own language HERE
Read our Press Statement HERE
Watch the recording of the press briefing livestream HERE