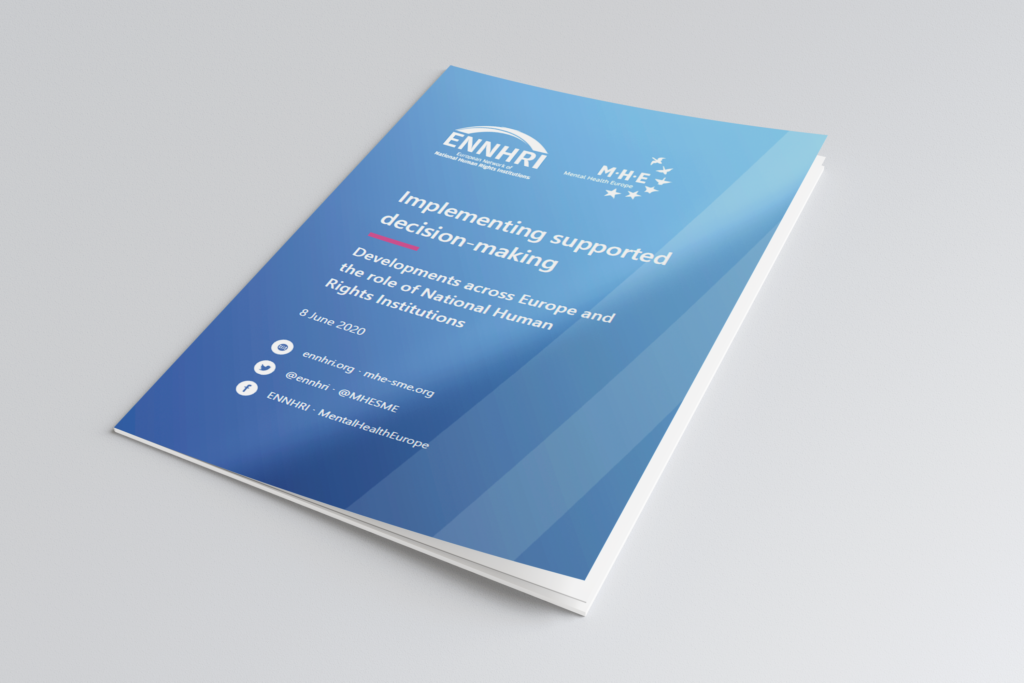 Mental Health Europe (MHE) and the European Network of National Human Rights Institutions (ENNHRI) have published a joint report on supported decision-making for persons with disabilities and what it entails in theory and practice. The report provides an overview of some recent developments regarding the transition towards supported decision-making, particularly for people with psychosocial disabilities, in Europe. It explains the role of national human rights institutions (NHRIs) in ensuring compliance with international standards.
About supported-decision making
The United Nations Convention on the Rights of Persons with Disabilities (UN CRPD) came into force more than ten years ago. This human rights treaty for persons with disabilities has been signed and ratified by all European Union Member States and the European Union itself. Article 12 of the Convention enshrines the universal recognition of legal capacity in all areas of life. It underlines that people with psychosocial disabilities need to be supported to make decisions for themselves instead of substituted in their decision-making. Accordingly, the Convention calls for systems of "supported decision-making" for persons with disabilities.
Key findings of the report 
Across Europe, several practices are emerging to implement the transition towards supported decision-making. These advances are either changes in the legislation or initiatives of the non-governmental organisations (NGOs), disabled people organsiations (DPOs) and other actors on a grass-root level.
While legal progress has been made in such countries as Czechia or Ireland, most of the national legal frameworks still draw a fine line between supported decision-making and substitute decision-making. Some states continue to deny legal capacity and allow substitute decision-making under certain circumstances.
Grassroot-level initiatives are key to ensure proper implementation of supported decision-making. These include support in providing information and advanced planning regarding treatment, for example, independent advocates, community support networks, and peer support.
Only a collaborative effort among persons with (psychosocial) disabilities, policy-makers, service providers, families, legal professionals, health professionals and carers, coupled with the allocation of sufficient resources and the provision of training, will allow states to comply with their human rights obligations under Article 12 of the Convention.