G7 Letter of support for youth mental health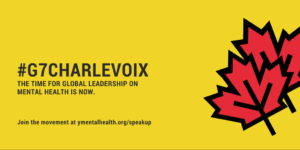 MHE is pleased to support and sign the Global Coalition on Youth Mental Health 'Letter of Support to G7 Leadership' to make mental health a priority worldwide. 
Canada will host the G7 Leaders' Summit in 2018,focusing on five official themes:
Investing in growth that works for everyone
Preparing for jobs of the future
Advancing gender equality and women's empowerment
Working together on climate change, oceans, and clean energy
Building a more peaceful and secure world
The letter calls for  a sustained G7 commitment to address the impacts of mental ill health on youth around the world.
Mental health, particularly youth mental health, is inextricably linked with the G7 official themes this year. Yet, G7 leaders have not yet focused on mental health as a global priority.
You can read the letter HERE
and follow the discussions on twitter