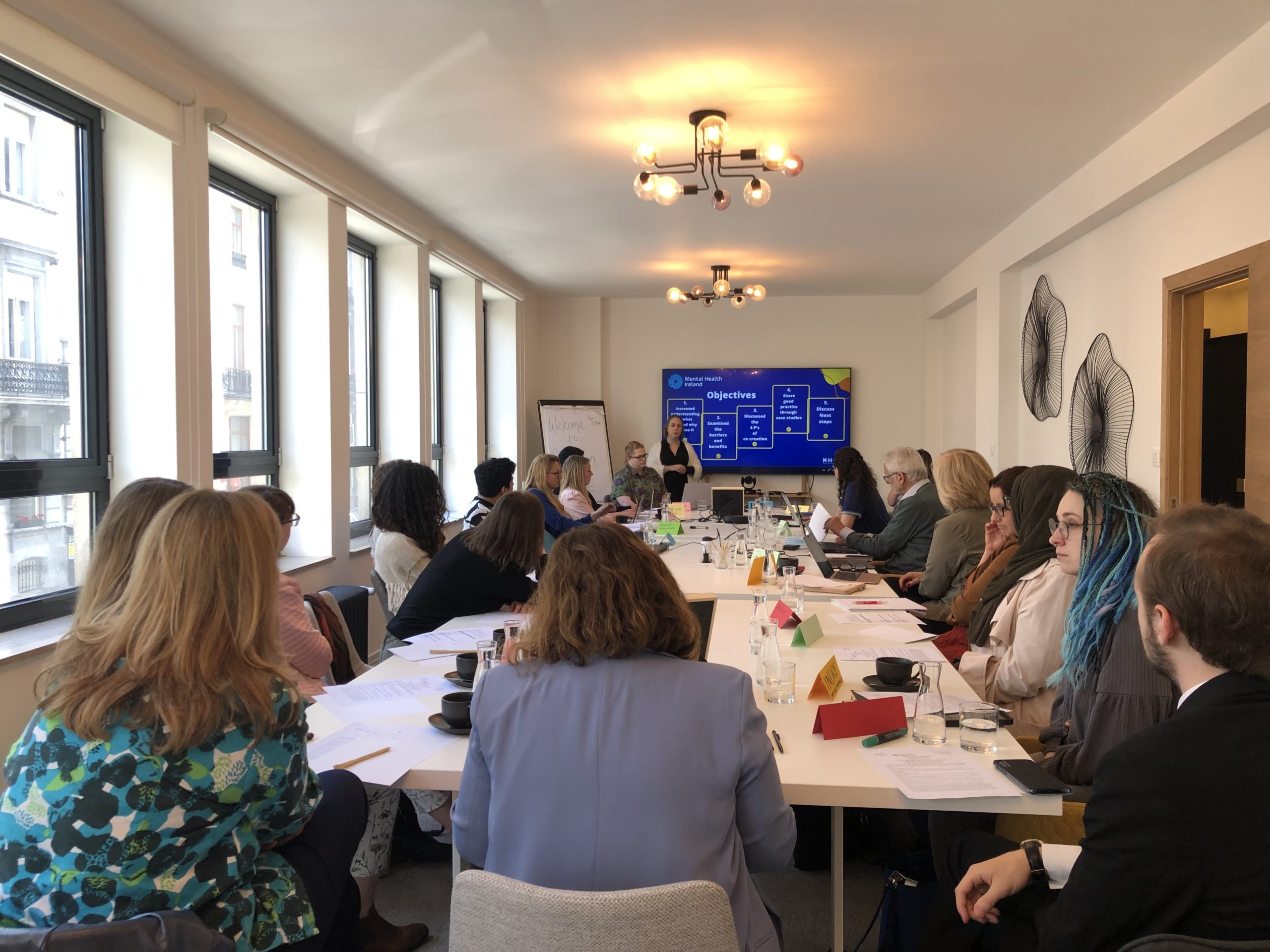 It was a delight to welcome our members to MHE's first in-person workshop expertly facilitated by Mental Health Ireland's Co-Creation team. The objective of this workshop was to introduce the concept of Co-Creation to MHE members and team, listen to case studies and learn the approach from different perspectives.
Since MHE has identified Co-Creation as one of its new strategic priorities and has chosen this approach to be central to our work, it was important to learn with examples from Ireland and other examples from across Europe. Case studies were used to deepen knowledge and to engage with practical examples in order to ensure the voice of lived experience is meaningfully included in mental health research, reform, policy, promotion, advocacy.
The workshop brought to light that the biggest challenge in mental health services to implement Co-Creation in practice is the older model of service from which we are still emerging. Traditional mental health services were mainly provided by professional care providers and did not involve the patient / person with lived mental health distress.
Recently, there is a shift towards multidisciplinary and community-based service provision including the critical role that service users, family, informal carers and various other stakeholders contribute in the design and delivery of care service. This first workshop was crucial to understand the need to support the full engagement of all the stakeholders in an equal manner as well as the need to focus on inclusive decision-making.
Co-Creation is an area where MHE will intensify its work aiming to bring the value and expertise brought by people with lived experience of mental health distress and their supporters.  This workshop was the first step as we strive to achieve increased capacity of all relevant actors to work together valuing each other's expertise and perspectives.
See some photos from the Co-Creation Workshop.
Stay tuned for more information about MHE's Co-Creation activities.
###  
About Mental Health Europe 
Mental Health Europe (MHE) is the largest European non-governmental network organisation committed to the promotion of positive mental health and wellbeing. We advocate for the improvement of care, social inclusion and the protection of the rights of (ex)users of mental health services, persons with psychosocial disabilities, their families and carers. We raise awareness to end mental health stigma and discrimination.  
Learn more about MHE from this video. Follow Mental Health Europe on social media. We are on Twitter, Facebook, LinkedIn and Instagram.