17 May 2023
Twitter Spaces with MEP Cyrus Engerer on Mentally Healthy Communities
Mental Health Europe (MHE) is hosting the 4th edition of the European Mental Health Week on 22-28 May 2023, the theme 'Mentally healthy communities' focuses on increasing understanding and learning about mental health in our communities, schools, workplaces, and at home so that everyone can thrive and flourish at every stage of life.
As part of the week, we will be organising a Twitter Spaces event with Member of the European Parliament, MEP Cyrus Engerer, to have a candid conversation on the topic of mentally healthy communities and what changes can be made at European and national level.

Description
Communities have a substantial role in people's mental health. They can provide people with a sense of belonging, act as a powerful source of support, offer a feeling of purpose, and enable societal changes that are needed to achieve good mental well-being.
During this Twitter Spaces, MEP Cyrus Engerer will talk about his vision for mentally healthy communities, as well as structural changes that can be made at European, national and local levels to reshape the environments that influence mental health and to enable a community-based network of formal and informal support.
About MEP C
yrus Engerer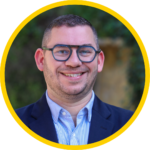 MEP Cyrus Engerer became a Member of the European Parliament in 2020 where he sits as a full member on the Committee for Environment, Public Health and Food Safety (ENVI), the Committee on Civil Liberties, Justice and Home Affairs (LIBE) and on the Committee of Constitutional Affairs (AFCO). Engerer is also the co-President of the Mental Health Europe Coalition in the European Parliament.
Engerer was the lead negotiator for the Socialists and Democrats (S&D) regarding the historic declaration of the EU as an LGBTI Freedom Zone and was appointed drafter and negotiator on the Parliamentary resolution concerning the rights of LGBTIQ citizens in Hungary. Following his appointment to the Committee on Environment and Health (ENVI Committee), he became one of the most vocal MEPs on healthcare issues relating to the Covid-19 Pandemic and the need for further action on health policy at EU level.
Follow MEP Cyrus Engerer on Twitter.
Join the Twitter Spaces
Join the Twitter Spaces with MEP Cyrus Engerer on Wednesday, 24 May at 17:00 CEST
Learn more about the European Mental Health Week