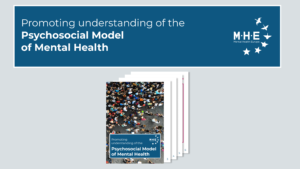 'Promoting understanding of the Psychosocial Model of Mental Health

'
At Mental Health Europe we believe that as a society there is an urgent need to reorder our priorities in the way we deal with mental health problems. Humans are social beings and if you ask people where their mental or psychological distress has its origins, most will refer to events which have disrupted their lives, their relationships, and the way they view the world. And yet, the way mental health problems are presented to ordinary people is most of the time as diseases or medical problems resulting from flaws in the brain or genetic makeup, which can be controlled by drugs or sometimes even by using coercive practices. As well as being a profoundly pessimistic perspective, many people also find that the effects of this kind of treatment makes them feel worse and hope of recovery an ever more distant prospect.
If we want to improve the lives of people with mental health problems, and if we want to have better prevention of mental health issues, we need a different kind of approach, one which deals directly with the social determinants of mental health and the lived experiences of people. We call this a psycho-social model. At its heart is the recognition that we are embedded in a network of personal, social and community relationships which may for a time not be working for us because of loss, grief, trauma, poverty or any number of factors that make us sad, anxious, desperate or lost, but which with the right help can, over time, be empowered to work enabling recovery and a better life.
In this toolkit we look at what the right help may consist of. The resource deals with important prerequisites to recovery, such as respect for the human rights of the individual and the principle of informed consent to treatment. It also gives examples of successful psycho-social approaches from many parts of Europe, illustrating what can be achieved if we reorder our priorities. We are under no illusions about the magnitude of this task.  Powerful forces including the legal systems of most countries, global institutions and the financial might of the pharmaceutical industry influencing the mainstream media, policy, medical education and the information doctors receive about how to deal with mental health problems, all tend to overshadow the search for alternatives.
Despite this, psychosocial approaches continue to thrive and change the lives of people who have the luck, the courage, and the support to try them. If those dearest to you (or you) feel the need to look beyond a type of treatment which does not seem to be working for them, or you are looking to improve the services you are responsible for, read on. You will find you are not alone in your quest.