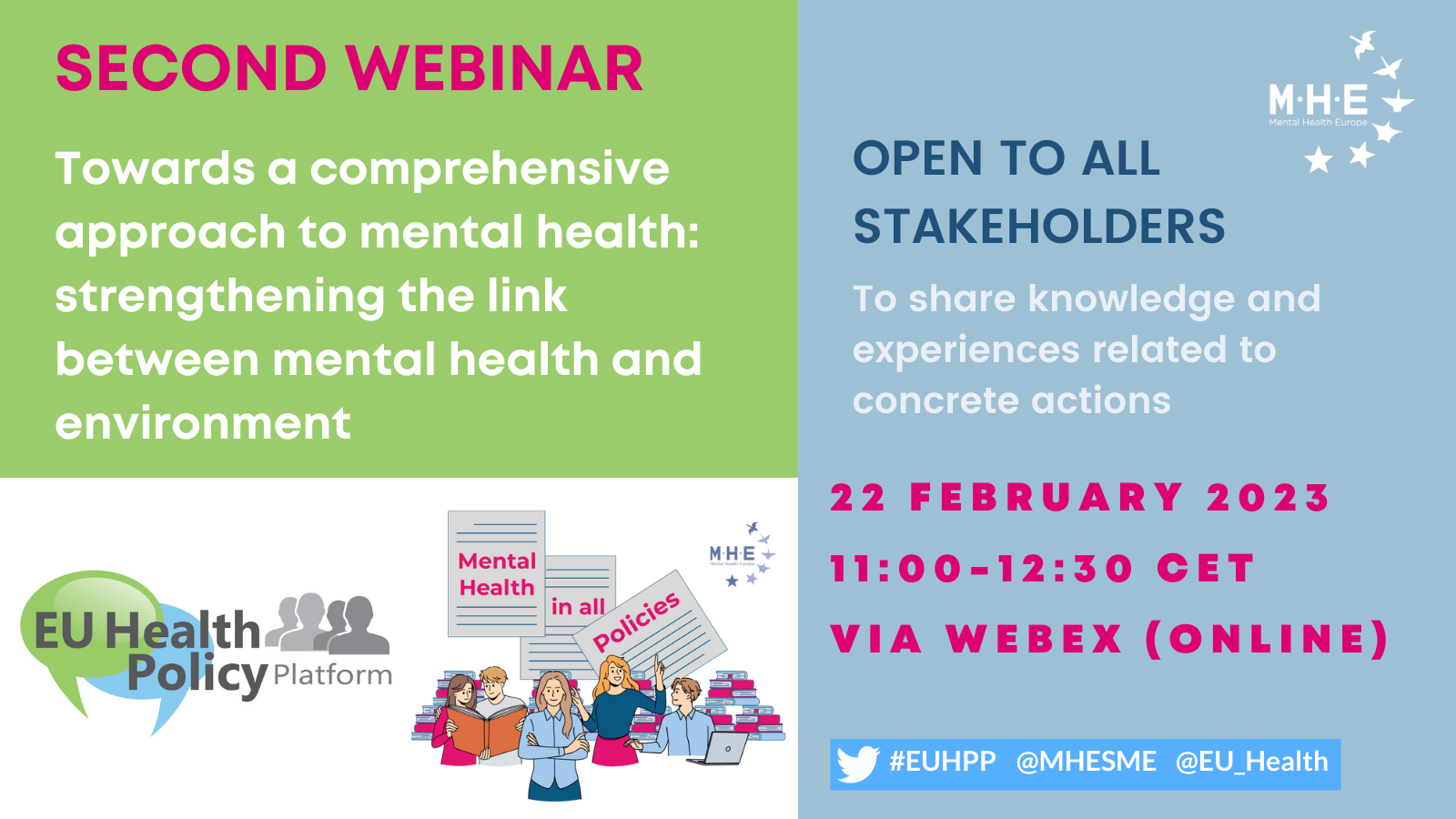 Mental Health in all Policies webinar on Wednesday 22 February 2023 (11:00 – 12:30 CET).
A comprehensive approach to mental health requires a clear understanding of the interconnections among wider determinants of mental health, shifting the focus away from the individual to the context in which they live. There is growing evidence of the association between mental health and the environment. On the one hand, climate change and its adverse effects, such as climate anxiety, economic uncertainty, job insecurity, volatile weather patterns and displacement, can have a negative impact on mental health, representing therefore risk factors.
On the other hand, the environment encompasses also protective factors for mental health (e.g., evidence shows that spending time in nature reduces experiences of anxiety, depression and loneliness). The mental health in all policies approach calls for the inclusion of mental health in climate policies, as well as the integration of environmental considerations into policies and programmes for mental health.
The objective of this webinar was to support an understanding of the relationship between environment and mental health, both in terms of risk and protective factors. Special attention was reserved to those groups who may be disproportionately at risk from climate change-related hazards, depending on existing vulnerabilities and inequalities. The mutual benefits of actions that contribute to climate change mitigation – with positive effects on mental health and vice versa – were highlighted.
After an introduction explaining the impact of climate change on mental health and putting forward some policy recommendations, the webinar then moved to a section focused on the experience of different stakeholders (e.g., the need for health professionals to be trained on the topic), as well as promising practices of supporting mental health and well-being through nature-based solutions.
Download Agenda
Download the Report
The webinar took place on the EU Health Policy Platform, in the framework of the "Mental Health in all Policies" Thematic Network, led by Mental Health Europe, in partnership with the members of the Mental Health Advocacy Platform, as well as EuroHealthNet, Trimbos Instituut and UNICEF.
Launched in October 2022, the Thematic Network aims to gather knowledge of what works, what is already happening and what still needs to be done in relation to adopting a "mental health in all policies" approach. A Joint Statement – to be launched on 19 April 2023- will provide policy recommendations and suggest possible courses of action to address mental health in all relevant European Union, national and regional policies.
Follow us on Twitter @MHESME and join the conversation on #EUHPP