17 May 2023
Instagram Live with Nikki Mattocks: Online Communities & Mental Health
Mental Health Europe (MHE) is hosting the 4th edition of the European Mental Health Week on 22-28 May 2023.  This year's theme 'mentally healthy communities' addresses the role played by the communities in which we live, work, and learn in influencing our mental health, as well as on what is needed for these communities to allow everyone to thrive and flourish at every stage of life.
As part of the week, this Instagram Live on Thursday 25 May at 5 PM CEST event focuses on mental health and online communities.

Description
Online environments can be an important source of entertainment, social support and learning. They can also expose people – especially those in vulnerable situations, such as children and adolescents – to risk factors for their mental health: cyberbullying, cyberstalking, grooming, developmentally inappropriate content, misinformation and unhealthy role models or beauty expectations. It is important to ensure that online environments are safe and healthy, enhance mental health outcomes, and facilitate access to resources and support.
As we live in a digital world and digitalisation is here to stay, it is important to stimulate a discussion on what is needed to make online communities safe and supportive environments.
Dove and MHE collaboration
MHE is more and more active on this topic of digitalisation. We published a Report on 'Mental health in the digital age' and are collaborating with Dove in the Stand Up for Kids Online Safety campaign calling for a safer social media environment to protect children's mental health. Sign the petition here!
About Nikki Mattocks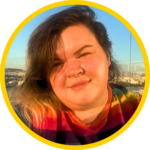 Nikki Mattocks (she/they) is a 26-year-old LGBTQ+ disabled Activist and Lived Experience Professional based in London, UK.  Having gone through trauma, distress, mental health issues and hearing voices, Nikki wanted to share her story with the hope of helpling others feel less alone.  They have shared their story with lots of people from around the world, and dream of making the world a better place. She currently advises and supports Euro Youth Mental Health, the Royal College of Psychiatrists (UK) and other local, national, and international organisations.
Join the Instagram Live