15 May 2023
Instagram Live with Jude Guaitamacchi: Mental Health in the LGBTQ+ Community
Mental Health Europe (MHE) is hosting the 4th edition of the European Mental Health Week on 22-28 May 2023, the theme 'mentally healthy communities' will focus on increasing understanding and learning about mental health in our communities, schools, workplaces, and at home so that everyone can thrive and flourish at every stage of life.   
As part of the week, we organised an Instagram Live event focusing on mental health in the LGBTQ+ community with Jude Guaitamacchi.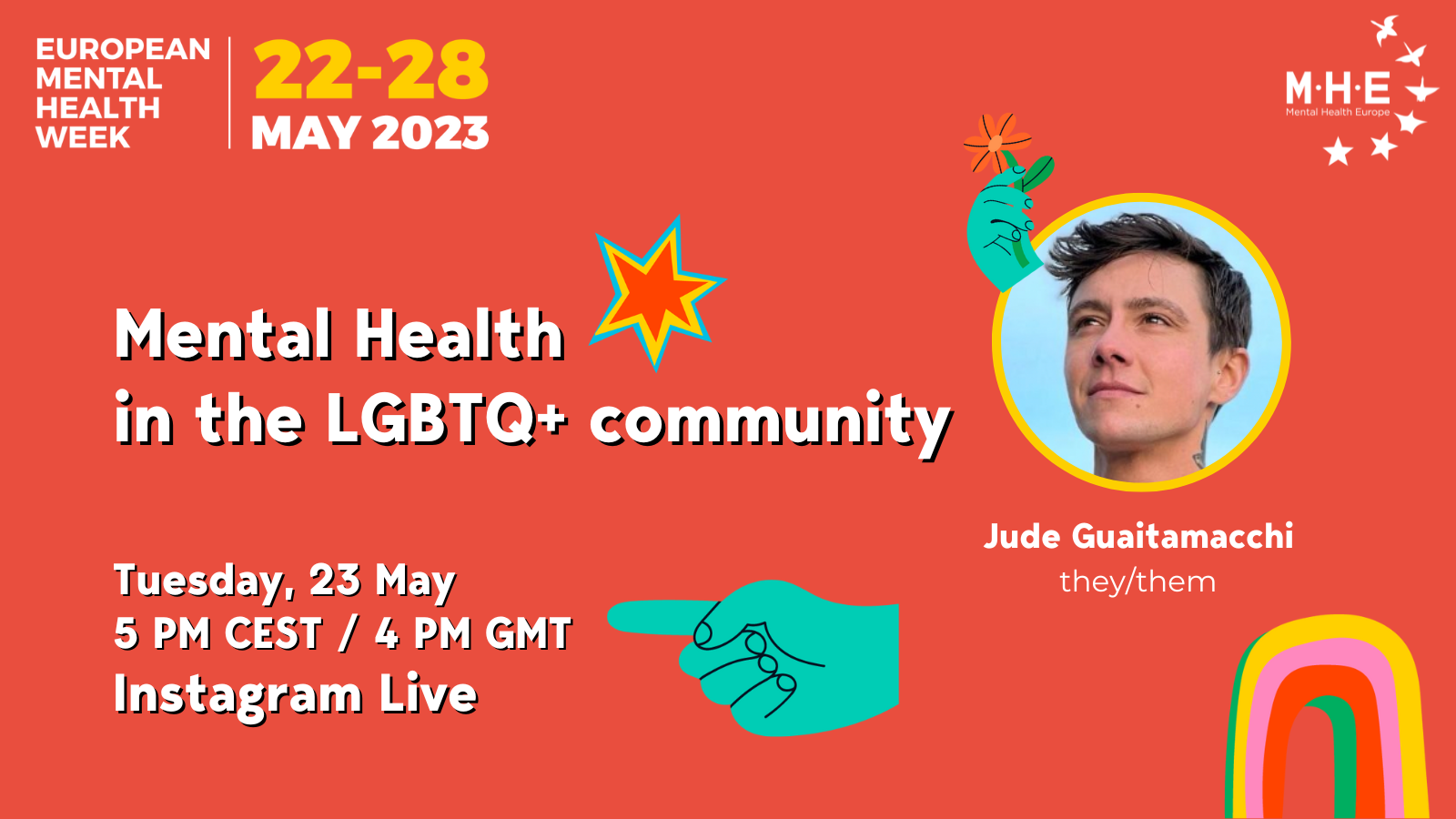 Description
LGBTQ+ individuals often live in vulnerable circumstances that make them more likely to develop mental health issues. Being a member of the LGBTQ+ community does not directly cause mental health problems. Instead, it's the amount of stigma and (covert and overt) discrimination, homophobia, transphobia, social isolation and rejection, barriers to healthcare, legal protection and microaggression that make LGBTQ+ people more exposed to experience mental health issues, often from a very young age.  
The LGBTQ+ community developed through the years ways to self-protect and self-support, becoming one of the strongest and most visible communities in the world. However, the constant threat from social and political powers does take a toll on LGBTQ+ individuals' mental health, who often have to rely on themselves or other members of the community.  
In this Instagram Live, we will discuss the main barriers the LGBTQ+ community faces when it comes to mental health and access to mental health services, as well as practices that the community developed to support its members. Ultimately, we will touch upon the support that society and institutions must offer to the LGBTQ+ community to meet their needs and demands, and to allow LGBTQ+ people to thrive.  
About Jude Guaitamacchi 
Jude Guaitamacchi (they/them) is a LGBTQIA+ & Transgender Diversity & Inclusion Trainer, Business & Brand Consultant, TEDx Speaker, Content Creator & Model. Jude has a 10-year proven track record of public speaking, training, LGBTQIA+ & Trans Awareness in schools, businesses and organisations across the UK and Europe. They draw on both their personal and professional experience presenting complex information to a broad range of clients. As an advocate for personal development, Jude draws on their insights from their experience with mental health and how learning to embrace their authenticity helped them to thrive.  
Jude was the first non-binary person in history to feature in a Harrods campaign and have an established media presence and a reputable career as a speaker. They have a long-standing reputation working with UK's most prestigious schools as well as corporate businesses, brands, county councils, events, travel and hospitality industries.  
Connect with Jude on Instagram, TikTok and LinkedIn 
Watch the Instagram Live
Rewatch the Instagram Live on YouTube!
Learn more about the European Mental Health Week