Save the date: High-level seminar on the future of mental health in Europe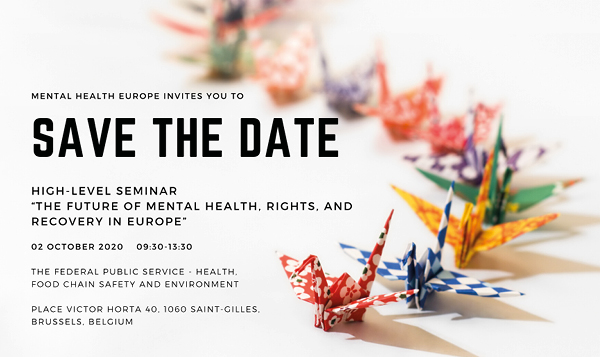 MHE invites you to save the date for a high-level seminar "The future of mental health, rights, and recovery in Europe".  
The seminar will take place on Friday, 02 October 2020 in Brussels, Belgium. It will aim to take stock of the progress and discuss future priorities for mental health in Europe. The event will be hosted by the Federal Public Service – Health, Food Chain Safety and Environment (Place Victor Horta 40, 1060 Saint-Gilles).
More details will follow shortly. We will open the registration process in due time.
For any questions related to this event, please get in touch with Jennifer Oroilidis, MHE Communications and Events Assistant via assistant[at]mhe-sme.org.