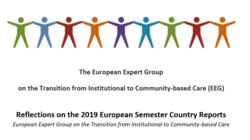 As part of its work on the European Semester, and following the publication of the 2019 European Commission Country Reports, the European Expert Group on the Transition from Institutional to Community-based Care (EEG) prepared reflections on their content to provide expert support to the European Commission in the drafting of the 2019 Country Specific Recommendations.
Including the Transition from Institutional to Community-based Care into the European semester is a key element to drive national policy reforms.
The EEG has analysed the country report and is pleased to see that deinstitutionalisation and community-based care are explicitly mentioned in 18 of the 2019 Country Reports ( Belgium, Bulgaria, the Czech Republic, Croatia, Cyprus, Estonia, Finland, France, Greece, Hungary, Italy, Latvia, Lithuania, Malta, Poland, Portugal, Romania, Slovakia, Slovenia, and Spain).
Another important point for this year's Country Reports is included in Annex D of the reports, which looks at priority investment areas which will provide the basis for a dialogue between Member States and the European Commission in view of the programming of the Cohesion policy funds (European Regional Development Fund and European Social Fund Plus).
14 Member States have supported deinstitutionalisation and the development of community-based care as a priority investment, which means that discussions on how to further invest EU money on the transitions are likely to happen.
The EEG is delighted to see that many of our concerns have been included in the relevant Country Reports. The EEG strongly believes that the need to further and better invest in the transition from institutional to community-based care, including the development of family and community-based services, should be included in the 2019 Country Specific Recommendations (CSRs) of all Member States.