MHE successful event in the Parliament on Active Ageing
Mental Health Europe together with Member of the European Parliament Deirdre Clune (Ireland, EPP) held a successful event in the European Parliament on the 7th of February to discuss the importance of active ageing and why it matters to mental health.
With more than 50 people in the room, the event gathered experts and policy makers including the Irish Minister for Mental Health and Older People Helen Mc Entee. The overall message coming out from the event was positive and full of hope: demographics are changing, life expectancy rises, but ageing should not be seen as a burden for society but as an opportunity.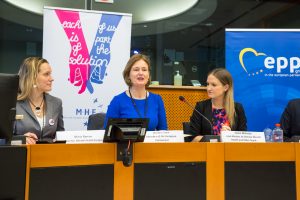 Watch EU Reporter video and interviews about the event HERE
Read MHE press release and recommendations on positive mental health and active ageing HERE
Pictures of the event HERE